Case Study: Excess Antibiotics for Chronic Lyme Disease
Patient: Carol from New Jersey
Background: Prior to finding Sponaugle Wellness Institute, Carol was treated for six years by the best and brightest LLMDs in New Jersey and New York. Over that six-year period, she was prescribed multiple antibiotics. Most significant is the fact that she was prescribed four grams a day of IV Rocephin for a total of three years. Unfortunately, the Rocephin was ineffective in killing the massive Bartonella infection seen within biofilm formation on her blood smear.
Diagnoses: Lyme Disease, Bartonella, Mold Toxicity, Industrial Toxins
Symptoms: Chronic Fatigue (Bedridden), Brain Fog, Anxiety, Insomnia, Depression, Malnutrition
Teaching Point: Carol was the first patient in which Dr. Sponaugle was able to determine that Mold Toxins and Industrial Toxins are sequestered in Biofilm formations. Excessive antibiotics are not effective for Lyme Disease patients who have biofilm saturated with lipophilic Mold and Industrial Toxins that suppress the immune system and natural kill power of the body to fight off infection and disease.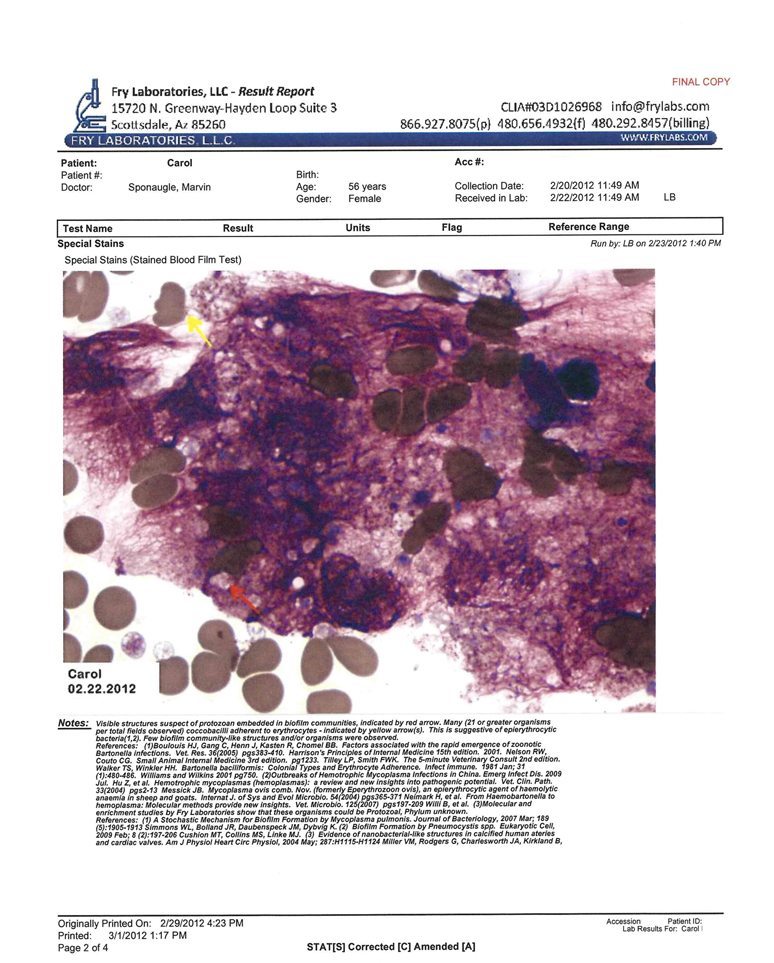 The last three years of excessive antibiotic treatment rendered Carol essentially bedridden.
Carol's story is a good case study for the concept that antibiotics are ineffective, if not worthless, in Lyme patients who have developed significant biofilm. Carol and her husband are one of the nicest couples I have met through 30 years of practicing medicine.
"Carol's Lyme Disease Treatment made her worse than the Lyme Disease infection itself, much like my daughter, Alexa, who had the same experience in her treatment," said Dr. Sponaugle. "Our Lyme disease treatment in 2012 was not nearly as advanced as it is in 2016, and I credit Carol's amazing transformation – in just three months* – to the fact that she is truly a Christian woman who sincerely prayed for, and believed in her recovery."
"Because Carol's husband was a brilliant mathematician, he wanted, like me, to prove or disprove concepts with numerical data, not guesswork," said Dr. Sponaugle. "Therefore he allowed me to perform testing precisely before and immediately after we used our "biofilm-busting" IV Infusions."
"To prove many of my theories through clinical research, we have had to eliminate variables, perform biomarker testing with precise before-and-after time frames, and use deductive reasoning. Patients remain the best teachers if we pay attention," Dr. Sponaugle said.
"Over that six-year period, she was prescribed multiple antibiotics. Most significant is the fact that she was prescribed four grams of IV Rocephin daily for three years. Unfortunately, the Rocephin was ineffective in killing the massive Bartonella infection."